Posts Tagged 'Performance'
Ultra Rare Limited Production Factory Vehicles That Have Been Given a Second Life!
Here at Cleveland Power & Performance, we have had quite a few ultra rare, limited production factory high performance vehicles. Most have been wrecked beyond repair, but we have repaired quite a few and put them back on the road! The one's that had a dead title or were beyond repair we still given a second chance by our facility!
Whether sold as a donor car, a rolling chassis, a turnkey pallet, or just a complete engine and transmission drop out, here at Cleveland Power & Performance we promise to ALWAYS ensure these limited number vehicles are re-purposed for their second coming in a custom project or repair! As of 2016, these are the vehicles we've received that we feel are quite rare based on total production. Stay tuned next year for a new list of rare cars we've acquired!

Below you will find a list, detailing the vehicle and what makes it rare, our stock number, the vin, and what the total production was. Entries with an "X" in front of the year are pictured below!
X 2005 Ram 1500 SRT-10 Viper Yellow Fever Quad Cab – 14-052 –
3D3HA18H35G740233 – 1 of 500 total
X 2005 Ram 1500 SRT-10 Viper Commemorative Edition – 13-064 –
3D7HA16H95G858885 – 1 of 200 total

X 2005 Ram 1500 SRT-10 Viper Commemorative Edition – 13-212 –
3D7HA16H75G858934 – 1 of 200 total
2006 Ram 1500 SRT-10 Viper Night Runner – 12-053 –
3D3HA16H76G269305 – 1 of 400 total
X 2006 Ram 1500 SRT-10 Viper Night Runner – 09-328 –
3D3HA18H56G269140 – 1 of 400 total
X 2010 Furious Fuchsia Challenger SRT-8 – 13-023 –
2B3CJ7DW0AH296248 – 1 of 400 total
2001 Yellow Viper GTS ACR – 10-026 –
1B3ER69E41V703202 – 1 of 89 total
X 2008 B5 Blue Pearl Coat Charger SRT-8 Super Bee – 14-043 –
2B3LA73W38H164001 – #614 of 1000
2008 B5 Blue Pearl Coat Charger SRT-8 Super Bee – 15-134 –
2B3KA73W98H163768 – 1 of 1000
X 2008 B5 Blue Pearl Coat Charger SRT-8 Super Bee – 14-057 –
2B3KA73W08H164100– 1 of 1000
2004 Viper Mamba Convertible – 10-290 –
1B3JZ65Z54V102179 – 1 of 200
2004 Viper Mamba Convertible – 10-131 –
1B3JZ65Z84V101267 – 1 of 200
X 2005 Viper Mamba Convertible – 15-002 –
1B3JZ65Z45V501196 – 1 of 200
X 2003 Viper from Fast & The Furious: Toyko Drift – 07-146 –
1B3JR65ZX3V501572 – 1 of 1
X 2013 Corvette C6 Z06 427 Convertible w/ 427 package – 13-002 –
1G1YY3DE9D5700216 – 1 of 427
1992 Corvette ZR1 in Black Rose Metallic – 14-126 –
1G1YZ23J4N5800165 – 1 of 48
2011 Toxic Orange Challenger SRT-8 – 15-198 –
2B3CJ7DJ7BH552987- 1 of 357
X 2010 Arctic White Corvette C6 Z06 – 15-006 –
1G1YK2DEXA5107164 – 1 of 184
X 2002 Corvette Mallet Hammer C5 Z06 383 Stroker – 15-076 –
1G1YY12S525128748- 1 of 6!
X 2011 Challenger SRT-8 392 w/ 392 Package – 13-037 –
2B3CJ7DJXBH501449 – 1 of 1492
1997 Corvette C5 "Bowling Green" Fairway Green Metallic – 06-189 –
1G1YY22G2V5100184 – 1 of 155
X 2008 Corvette C6 Hertz Sales Package – 08-299 –
1G1YY26W285130534 – 1 of 500
2001 Pontiac Firebird Firehawk – 13-234 –
2G2FV22G312144471 – 1 of 504
2002 Pontiac Firebird Trans AM Collector's Edition – 05-190 –
2G2FV32G322145109 – 1 of 554
1996 Corvette C4 LT4 Convertible Collector's Edition – 08-022 –
1G1YY3259T5116951 – 1 of 1,290
1996 Corvette C4 LT4 Coupe Collector's Edition – 08-110 –
1G1YY2252T5110788 1 of 1,540
2006 Viper Coupe GTS Blue Special Edition – 09-050 –
1B3JZ69Z56V100316 – 1 of 424
2008 Dodge Magnum SRT-8 – 11-219 –
2D8GV77398H193430 – 1 of 239
2006 Chrysler 300C Classic Design Concepts #1 Glassback Roof Car – 15-182 –
2C3LA73W46H514722 – 1 of 1
X 2002 Camaro Coupe 35th Anniversary – 09-080 –
2G1FP32G322141284 – 1 of 934
2002 Camaro Coupe 35th Anniversary – 08-214 –
2G1FP22G122120475 – 1 of 1,037
2002 Camaro Convertible 35th Anniversary – 04-225 –
2G1FP32G122122538 – 1 of 789
1994 Firebird Trans AM 25th Anniversary – 08-008 –
2G2FV22P4R2233672 – 1 of 1,412
1994 Firebird Trans AM 25th Anniversary – 08-203 –
2G2FS22S0R2247162 – 1 of 1,412
1994 Firebird Trans AM 25th Anniversary – 10-292 –
2G2FV22P7R2240020 – 1 of 1,412
X 2004 Corvette Z06 Z16 Commemorative – 05-368 –
1G1YY12S945125001 – 1 of 2,025
2005 Silverado 1500 Regency RST Conversion – 06-244 –
1GCEC14V75Z336238 – 1 of < 200
X 2009 Pontiac G8 GT GXP – 09-229 –
6G2EP57WX9L303167 – 1 of 1,828
2009 Pontiac G8 GT GXP – 13-155 –
6G2EP57W29L300053 – 1 of 1,828
2009 Pontiac G8 GT GXP – 14-168 –
6G2EP57W99L310255 – 1 of 1,828
2005 Ford GT –
1FAFP90S25Y400149 – 1 of 2,027
1999 Viper GTS-R Built by Hennessey – 09-107 –
1B3ER69E8XV502685 – 1 of ???
BILSTEIN VS EVERYBODY
When August Bilstein laid the foundations for the innovation incubator BILSTEIN in Altenvoerde in Germany's Westphalia region in 1873, little did anyone know the crucial influence the company's products would have on the driving comfort and safety of cars. Instead it was metal window fittings, that soon made the company famous far beyond the boundaries of Bilstein's local region.
A whole bunch of technical innovations followed and the revenues earned through these patents provided a solid basis for the later successes of the company is today. In order to meet the exacting quality demands, the company set up its own strip iron rolling mill in 1919.

Bilstein dipped in the shock absorber industry in 1954 by perfecting the mono-tube gas pressure shock. Currently, they carry some of the best performing shocks in the industry, for example Bilstein Heavy Duty Shocks and Bilstein 5100 series shocks. Whether you're looking for your lifted truck, daily driver or lower sports car, there's a Bilstein shock made for you.

Maintain your lead with Bilstein Sport Shocks & Struts bolted to your ride. Custom made by Bilstein for the car freak, sport shocks, struts and inserts give you full control over any road conditions.
Bilstein is #1 in their industry and they can prove it on racetracks and desert circuits around the world. Applying what they learn at the track to the street, Bilstein designs their shocks & struts to transform your vehicle into a fine-tuned performance machine.
Bilstein Sport shocks & struts boast a mono-tube design that will adjust to the road condition. Unlike conventional multi-tube shocks, mono-tube performance never suffers from age, heat, or being used and they never require manual adjustments.
Features
Dominate any road surface with Bilstein Sport Shocks & Struts

Designed to push your car's suspension to its performance peak

Ideal for use with performance springs, anti-sway bars and suspension upgrades

Seamless tube design provides superior strength, maximum heat dissipation and longer shock life

Large-diameter shock body delivers fade-free performance

Mono-tube design instantaneously adjusts to the road surface

Bilstein's suspension technology is track-proven and road-ready

Shock bodies are finished with Bilstein's classic yellow and blue paint scheme
The common vehicles that have Bilstein upgrade for suspensions are SRT-8 models. For example: 300's, Chargers, Challengers, and Magnums. The older models from 2005-2010 have a different style than the newer models of 2010 & up. The newer models Bilstein comes with the adjustable suspension option. This option allows the driver to adjust the suspension up or down, depending on the driver's preference.
Bilstein upgrade is common on the SRT-8 models but not on the base model. It's very common for driver's who own the base Charger, 300, Challenger, and Magnum to upgrade to the Bilstein because of the performance.
Here is a photo of a Bilstein upgrade from a 2012 Chrysler 300 SRT-8: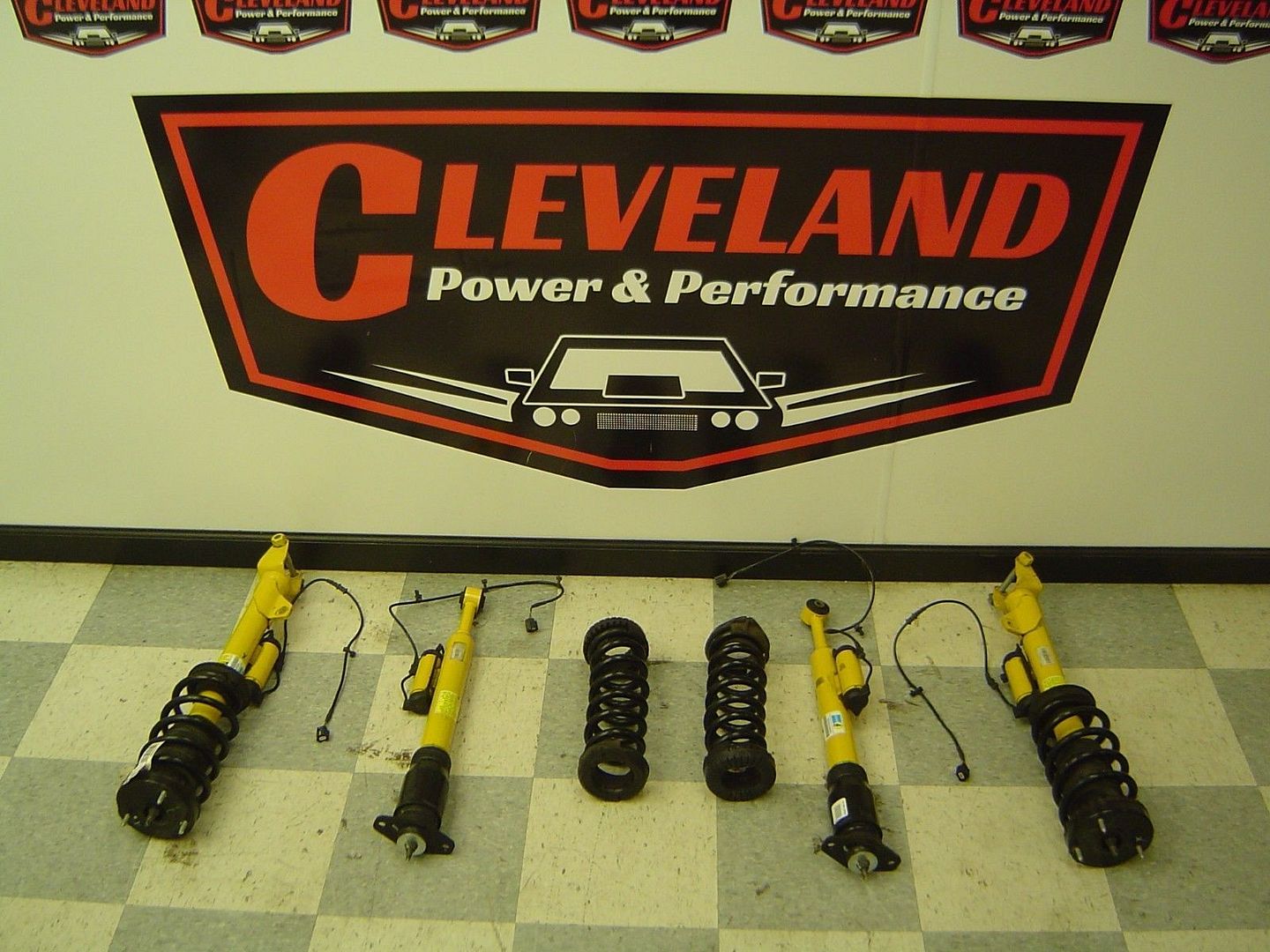 Here is a set out of a 2007 Magnum SRT-8: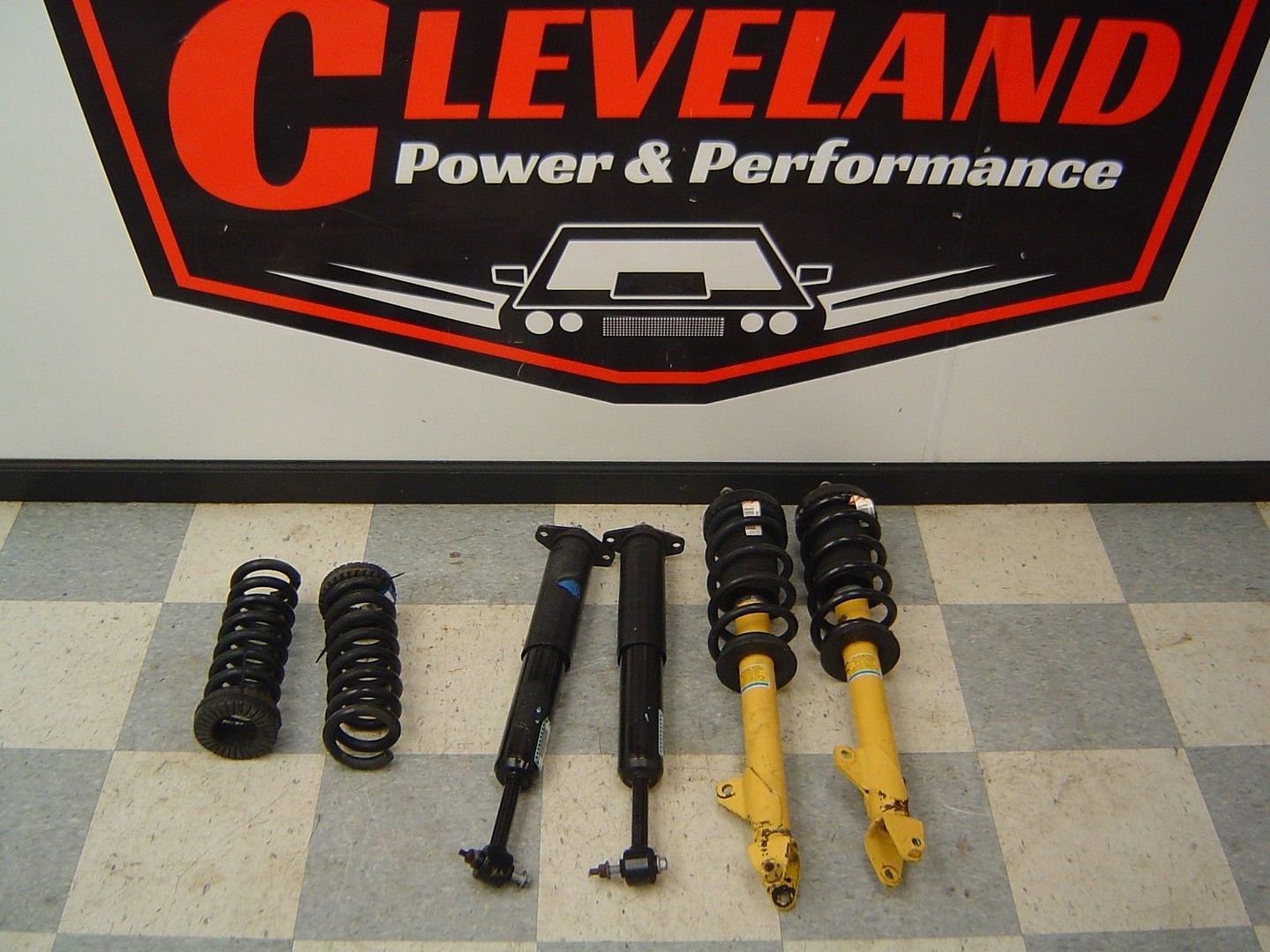 Here is a strut from a 5.7L RT: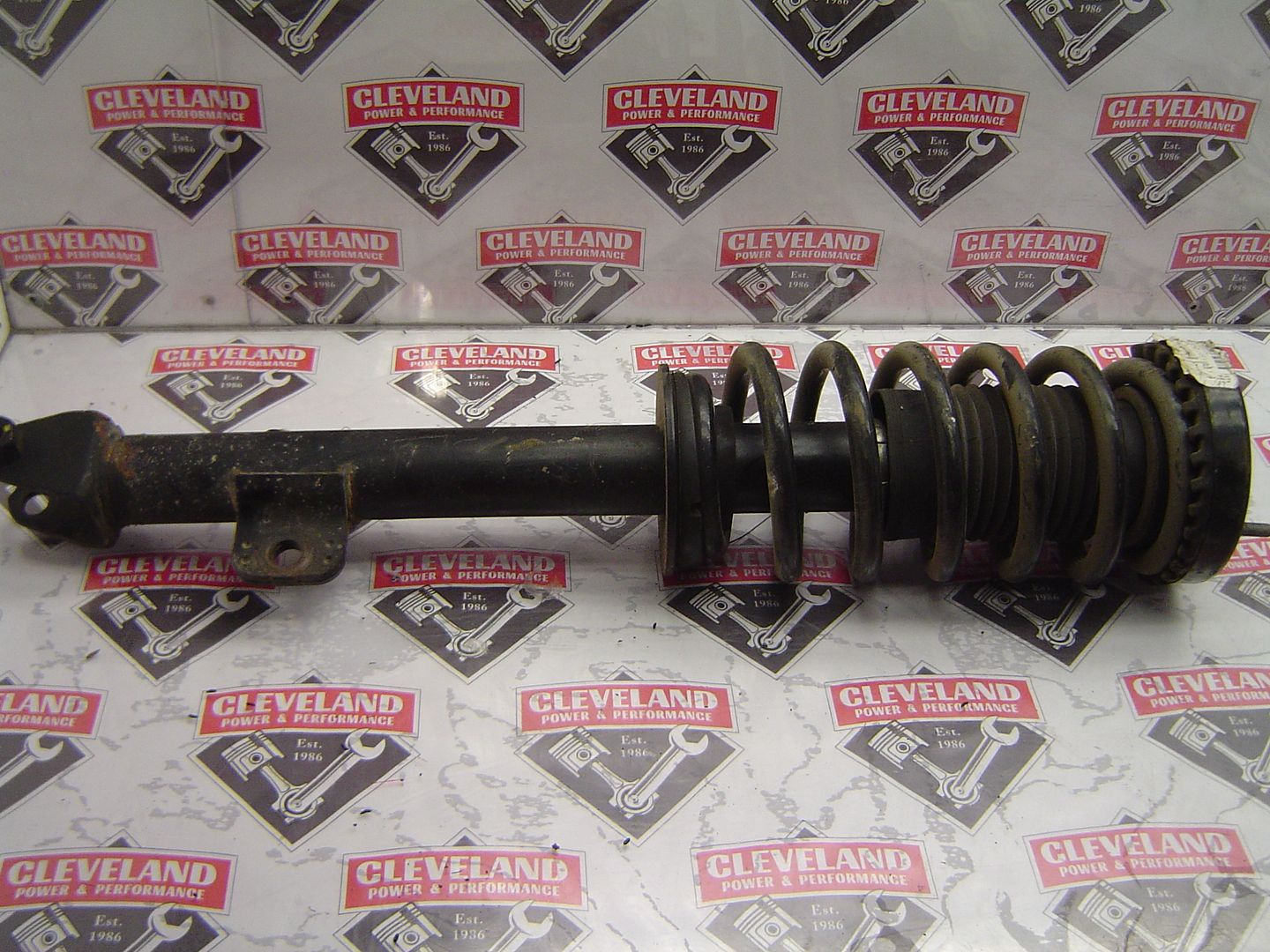 BILSTEIN OVER EVERYBODY. BILSTEIN WINS!!!
83 Trans Am custom build with Fourth Gen LS1 swap
Cleveland Power and Performance is proud to present this 83 Trans Am custom build with Fourth Gen LS1 swap, which will show you how easily you can update your Gen 3 F-Body with a ton of bolt on Gen 4 Parts! We will be incorporating an LS1 Driveline swap, updated to larger disc brakes, a fourth gen Trans AM Interior, and incorporating every piece of a late model Trans AM into this classic beauty! Long live the 80s!
We want to show all of our customers that this third gen TA could be easily swapped over to a fuel injected LS setup with upgraded interior using almost all parts that we have here in stock.
We will be using the driveline, interior, rear axle, front brakes and more from a donor fourth gen Trans Am. Nearly all of the parts that we will be using in this build are here at Power and Performance, in stock and in our warehouse. This is truly an all "in house" build.
We started by striping the interior of the 83, and taking out the original 305 engine to allow for mock up. We are going to use as much of the fourth gen interior as possible. A good amount of the new interior fits nicely and does not require an extensive amount of modification. Other parts will require a some modification, but in the end will give the 83 a much need update.
This is just the beginning of an exciting build and we will be posting pictures of the process as we go. Please stay tuned to our blog to see this car come to life step by step! Next up we will mock up the interior and drive line to see how everything fits and looks. We will also start on the rear axle and upgraded front brakes. Please feel free to let us know what you think of the build!
Feel free to visit our Facebook page for more exciting content from Cleveland Power and Performance! – Tim Mulcahy
Cleveland Pick A Part Becomes Cleveland Power and Performance
Cleveland Pick A Part to Cleveland Power & Performance: The New Era Begins
Welcome to Cleveland Power & Performance! We would like to formally introduce you to our new website and our new company name. For almost 30 years, Cleveland Pick A Part has been a growing force in auto parts and high-performance vehicle rebuilds. Now, as we move into 2015 and beyond, we are introducing a new name, new focus and a new level of advanced capabilities.
We have been upgrading the foundation of our business structure to better serve our customers and more nimbly adapt to the fast-changing world of high-end, performance vehicles. We felt the best way to move forward was to concentrate specifically on two distinct areas: 1. high-performance vehicle parts, and 2. performance vehicle rebuilds, including rebuildables, restomod projects and custom builds. We have invested substantial resources into becoming North America's premier provider in these areas, and we invite you to check out some of our current offerings on our Parts for Sale and Cars for Sale pages, or read more about our specialized offerings.
Longtime customers who have visited our shop over the years have seen how our company has grown. Since our humble beginnings in 1986, when we worked out of a trailer with an outhouse next to it, we have grown into a complete office building and sales area, more than 140,000 square feet of warehouse space, a service and dismantling area with 12 in-ground lifts, a dedicated onsite shipping area, and more than 29 acres of prime Ohio real estate for outdoor vehicle storage. We have posted some pictures on the new website that show the transition.
The original Cleveland Pick A Part started as a scrap yard in 1986. Over the years, we relied heavily on our insurance work, dealing directly with body shops and other local salvage yards. As the business grew and our capabilities grew more robust, we evolved into a specialist in late-model, high-performance vehicles. In fact, about a year ago, we made a decision to discontinue our parts supply of daily driving cars and concentrate more acutely on those high-performance cars and trucks, with a particular focus on high-performance drivelines. As we've made these changes, the Cleveland Pick A Part name that served us so well for so many years has become less representative of our current scope of work. And so Cleveland Power & Performance was born!
Going forward, Cleveland Power & Performance will continue to invest in our late-model parts supply, but we will also be shifting the attention from the "old school boneyard" to the sophisticated resto-mod capabilities of our own, on-premises, custom-build shop. We already supply drivelines and other parts to custom-build shops around the country and the world. Now we will be offering more of those custom-build services right here, with premium parts that are sourced, refurbished, tested and installed by our own highly trained professionals.
Perhaps most important through all of these exciting changes are the things that will remain constant at our business. Our family-owned-and-operated business has been under the same ownership and management since 1986, and that will continue. We are also maintaining all of the current employees, the same approach to excellent customer service, and the same emphasis on quality that has helped us grow into one of the largest late-model, high-performance vehicle parts providers in North America.
After the new year we will be going over changes on the website, and highlighting some of the new features that we've put in place to make our customers' lives easier. We appreciate your feedback on the new site as well. Please, feel free to send us a message or call us (866-236-5031) to tell us what you think.
From the owners of Cleveland Power & Performance, welcome to the new era!