Posts Tagged 'Charger'
Home of the 6.1L & 6.4L HEMI Turnkey Pallet
Home of the 6.1L & 6.4L HEMI Turnkey Pallet
Cleveland Power and Performance is the home of the 6.1L & 6.4L HEMI Turnkey Pallet. Our 6.1L & 6.4L HEMI packages are sold setup on a pallet and ready to run once you receive it! Just and fluids, fuel, and fire it up! We offer these turnkey pallets as an alternative to crate packages or basic engine and transmission dropouts, providing ease of use as well as ultimately saving customers thousands of dollars.
When pulled from a donor vehicle, these late model 6.1L and 6.4L HEMI engine packages require communication with a number of VIN matched modules in order to run properly. Depending on the year, make, model and options on the vehicle that the driveline was removed from will determine the models needed to get your package running properly in your custom car or hot rod.
Here are some examples of what we include with our HEMI dropouts.

Of course, all of these parts are all wired up together, on the pallet, when we sell our ready to run dropouts.
A large number of essential communication components in late model LX based cars are VIN matched and can only be properly programmed or diagnosed using the appropriate hardware/software. Unlike most, if not all, high performance other salvage yards, we have the ability to program, scan, and troubleshoot late model Dodge/Chrysler computers. This gives us the opportunity to ensure that every turnkey package that we sell is properly programmed and can be used in a custom application. For far to long, and even to this day in some circles, there was a major misconception regarding the ability to use these packages outside of the vehicles that the came in. There was special emphasis on the inability to use the NAG1 transmission that Chrysler used behind their HEMI's for years.  With outside of the box (almost literally in this sense) thinking, we here at Cleveland Power and Performance have essentially dispelled those rumors. By offering several dozen 6.1L and 6.4L auto and manual turnkey dropouts over the last several years, and by seeing them used in many unique applications, we have shown that these packages can indeed be used in just about whatever you can dream up!
We move fast when we drop a HEMI! We pull everything neatly and carefully, but we move fast!
With all of this being said, we urge buyers to make sure they get exactly what they need when purchasing a HEMI to used in their old Mopar or custom car.  All to often we get calls from customers shopping else where, either buying used or crate motors, looking for parts to get their HEMI running or advice on what to do. We are always willing to provide advice, however due to the fact that we sell our engines as turnkey packages we very rarely have the parts available that the need to run their motor. We have always and will continue to go the extra mile to make sure that every single dropout that we sell is exactly what the customer needs.
One of our 6.1L Turnkey setups was featured on the hit TV show Chop Cut Rebuild and was ultimately dropped in a 1970 Barracuda!


Check out this page showing the 6.1L Barracuda, dubbed "The Anchor", getting a full wrap right on the SEMA floor!
The same vehicle was also featured Hot Rod Network's website here.

We have sold a number of these turnkey pallets overs the years, and we have seen them find great homes. We have seen them put into some very unique and downright awesome project cars. Some of our turnkey HEMI's are now in their new homes under the hoods of Dusters, Imperials, V6 LX Cars, Barracudas, Pickup trucks, Coronets, and much more. Much like children, we provide a loving and caring environment for these packages until they are ready for their new home.  Sometimes we are sad to see them go, but their stop here is only temporary as they are ultimately destined for greater things… like running a quarter mile on a balmy Saturday morning on an Arizona drag strip, or doing a smokey burnout on a lonely road overlooking a pacific sunset in northern California, or even taking the kids out on the last nice autumn day for a Sunday drive in foothills of the Pocono's. Lets take a look at at some of the HEMI turnkeys past….
We would be happy to be the supplier of the HEMI package in you Mopar build! If you are looking for a specific package, please let us know as we will do what we can to find one for you.
If you have any questions regarding one our our turnkey setups, or any other packages that we have, please call us at 866-236-5031 to discuss.
Ultra Rare Limited Production Factory Vehicles That Have Been Given a Second Life!
Here at Cleveland Power & Performance, we have had quite a few ultra rare, limited production factory high performance vehicles. Most have been wrecked beyond repair, but we have repaired quite a few and put them back on the road! The one's that had a dead title or were beyond repair we still given a second chance by our facility!
Whether sold as a donor car, a rolling chassis, a turnkey pallet, or just a complete engine and transmission drop out, here at Cleveland Power & Performance we promise to ALWAYS ensure these limited number vehicles are re-purposed for their second coming in a custom project or repair! As of 2016, these are the vehicles we've received that we feel are quite rare based on total production. Stay tuned next year for a new list of rare cars we've acquired!

Below you will find a list, detailing the vehicle and what makes it rare, our stock number, the vin, and what the total production was. Entries with an "X" in front of the year are pictured below!
X 2005 Ram 1500 SRT-10 Viper Yellow Fever Quad Cab – 14-052 –
3D3HA18H35G740233 – 1 of 500 total
X 2005 Ram 1500 SRT-10 Viper Commemorative Edition – 13-064 –
3D7HA16H95G858885 – 1 of 200 total

X 2005 Ram 1500 SRT-10 Viper Commemorative Edition – 13-212 –
3D7HA16H75G858934 – 1 of 200 total
2006 Ram 1500 SRT-10 Viper Night Runner – 12-053 –
3D3HA16H76G269305 – 1 of 400 total
X 2006 Ram 1500 SRT-10 Viper Night Runner – 09-328 –
3D3HA18H56G269140 – 1 of 400 total
X 2010 Furious Fuchsia Challenger SRT-8 – 13-023 –
2B3CJ7DW0AH296248 – 1 of 400 total
2001 Yellow Viper GTS ACR – 10-026 –
1B3ER69E41V703202 – 1 of 89 total
X 2008 B5 Blue Pearl Coat Charger SRT-8 Super Bee – 14-043 –
2B3LA73W38H164001 – #614 of 1000
2008 B5 Blue Pearl Coat Charger SRT-8 Super Bee – 15-134 –
2B3KA73W98H163768 – 1 of 1000
X 2008 B5 Blue Pearl Coat Charger SRT-8 Super Bee – 14-057 –
2B3KA73W08H164100– 1 of 1000
2004 Viper Mamba Convertible – 10-290 –
1B3JZ65Z54V102179 – 1 of 200
2004 Viper Mamba Convertible – 10-131 –
1B3JZ65Z84V101267 – 1 of 200
X 2005 Viper Mamba Convertible – 15-002 –
1B3JZ65Z45V501196 – 1 of 200
X 2003 Viper from Fast & The Furious: Toyko Drift – 07-146 –
1B3JR65ZX3V501572 – 1 of 1
X 2013 Corvette C6 Z06 427 Convertible w/ 427 package – 13-002 –
1G1YY3DE9D5700216 – 1 of 427
1992 Corvette ZR1 in Black Rose Metallic – 14-126 –
1G1YZ23J4N5800165 – 1 of 48
2011 Toxic Orange Challenger SRT-8 – 15-198 –
2B3CJ7DJ7BH552987- 1 of 357
X 2010 Arctic White Corvette C6 Z06 – 15-006 –
1G1YK2DEXA5107164 – 1 of 184
X 2002 Corvette Mallet Hammer C5 Z06 383 Stroker – 15-076 –
1G1YY12S525128748- 1 of 6!
X 2011 Challenger SRT-8 392 w/ 392 Package – 13-037 –
2B3CJ7DJXBH501449 – 1 of 1492
1997 Corvette C5 "Bowling Green" Fairway Green Metallic – 06-189 –
1G1YY22G2V5100184 – 1 of 155
X 2008 Corvette C6 Hertz Sales Package – 08-299 –
1G1YY26W285130534 – 1 of 500
2001 Pontiac Firebird Firehawk – 13-234 –
2G2FV22G312144471 – 1 of 504
2002 Pontiac Firebird Trans AM Collector's Edition – 05-190 –
2G2FV32G322145109 – 1 of 554
1996 Corvette C4 LT4 Convertible Collector's Edition – 08-022 –
1G1YY3259T5116951 – 1 of 1,290
1996 Corvette C4 LT4 Coupe Collector's Edition – 08-110 –
1G1YY2252T5110788 1 of 1,540
2006 Viper Coupe GTS Blue Special Edition – 09-050 –
1B3JZ69Z56V100316 – 1 of 424
2008 Dodge Magnum SRT-8 – 11-219 –
2D8GV77398H193430 – 1 of 239
2006 Chrysler 300C Classic Design Concepts #1 Glassback Roof Car – 15-182 –
2C3LA73W46H514722 – 1 of 1
X 2002 Camaro Coupe 35th Anniversary – 09-080 –
2G1FP32G322141284 – 1 of 934
2002 Camaro Coupe 35th Anniversary – 08-214 –
2G1FP22G122120475 – 1 of 1,037
2002 Camaro Convertible 35th Anniversary – 04-225 –
2G1FP32G122122538 – 1 of 789
1994 Firebird Trans AM 25th Anniversary – 08-008 –
2G2FV22P4R2233672 – 1 of 1,412
1994 Firebird Trans AM 25th Anniversary – 08-203 –
2G2FS22S0R2247162 – 1 of 1,412
1994 Firebird Trans AM 25th Anniversary – 10-292 –
2G2FV22P7R2240020 – 1 of 1,412
X 2004 Corvette Z06 Z16 Commemorative – 05-368 –
1G1YY12S945125001 – 1 of 2,025
2005 Silverado 1500 Regency RST Conversion – 06-244 –
1GCEC14V75Z336238 – 1 of < 200
X 2009 Pontiac G8 GT GXP – 09-229 –
6G2EP57WX9L303167 – 1 of 1,828
2009 Pontiac G8 GT GXP – 13-155 –
6G2EP57W29L300053 – 1 of 1,828
2009 Pontiac G8 GT GXP – 14-168 –
6G2EP57W99L310255 – 1 of 1,828
2005 Ford GT –
1FAFP90S25Y400149 – 1 of 2,027
1999 Viper GTS-R Built by Hennessey – 09-107 –
1B3ER69E8XV502685 – 1 of ???
Brembo or BremNO????
What are Brembo calipers? What do they do? Will it make my car stop faster? Those are common questions that come to mind when customers ask me about Brembo calipers.
Common cars that carry the Brembo brake upgrade are SRT-8 300's, Challengers, Chargers, and Magnums. These are the most powerful V8 vehicles that the Chrysler Group has came out with. These cars are so powerful that they require a brake system of commensurate capability as standard equipment. Design imperatives were excellent braking performance under every conceivable operating condition – from high speeds to track day, communicative pedal feel enabling precise modulation and control, and superior heat dissipation to keep brake efficiency optimized and sustainable, especially under extreme usage.
The basic models would be SE or SXT, which have a 3.6L V6 engine with 250-305 horsepower have the 4 wheel Anti Lock Disc Brakes. The RT models have 5.7L V8 Hemi engine with 375 horsepower and have the Heavy Duty High Performance Brakes.The SRT-8 models have 6.1L or 6.4L engine with horsepower ranging from 425-470. These come with the Brembo Performance Brakes.
A lot of people who own the SXT or the RT models will generally upgrade their brake system to the Brembo Performance simply because they custom built there engine to have more horsepower and they need the support. Most of the time they will upgrade because they simply look a lot better. If you are looking into upgrading your SXT base model or RT model, you cannot just plug and play with Brembo Performance Brakes.
To upgrade your brakes on the base SXT model and RT,you will need at least a 20″ wheel for clearance, hubs, spindles, knuckles, and rotors.
The rotors are different from RT and SRT-8, RT rotors measure out to approximately 13.6 diameter and 1.15 thick. The SRT rotors measure out to approximately 14.20 and 1.26 thick.
Here are some photos of how much different each caliper is:
Brembo:

Regular:

SRT-8 SPINDLE & HUB: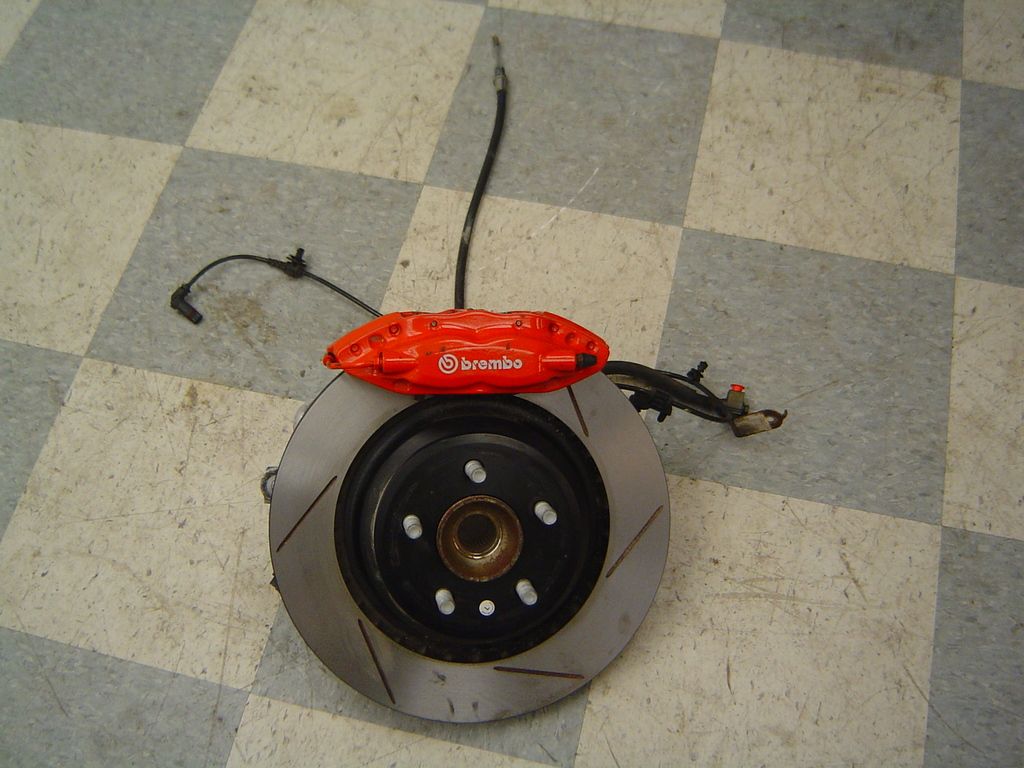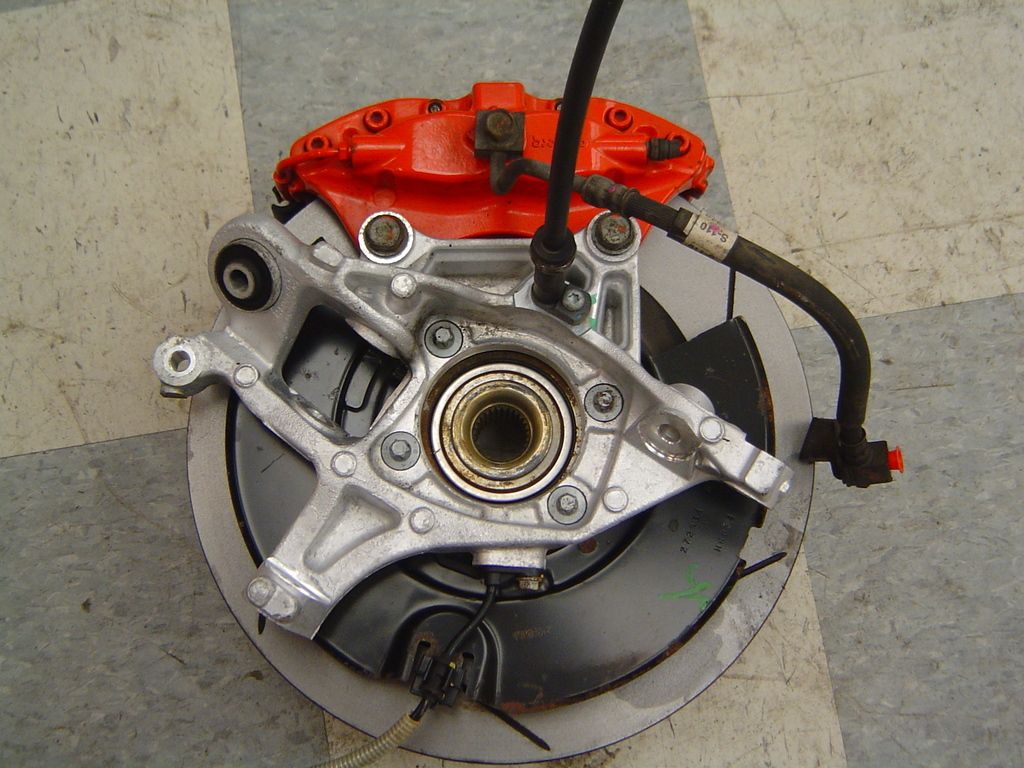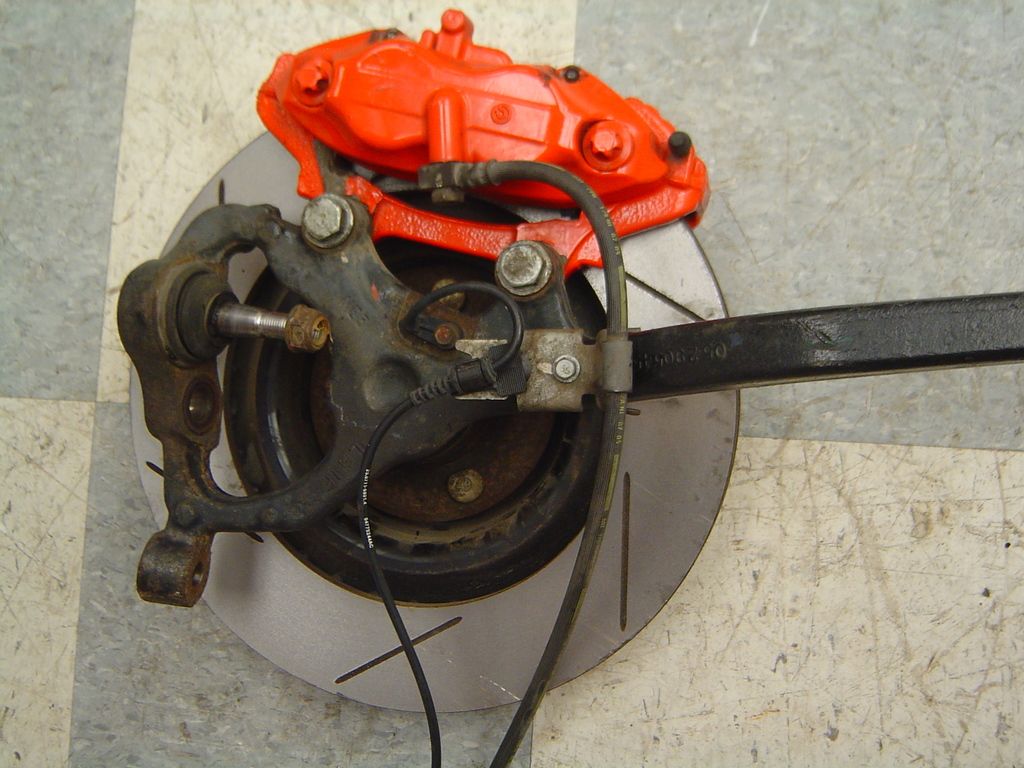 2007 Dodge Charger SRT-8 6.1L Rebuild FINISHED! Completed Photos, and for sale!
See the build pictures here:
https://www.clevelandpap.com/salvage-2007-dodge-charger-srt-8-6-1l-rebuild-from-start-to-finish/
See the eBay auction containing this vehicle FINISHED and FOR SALE here:
https://www.ebay.com/itm/Dodge-Charger-SRT8-Sedan-4-Door-/391150345168
Cleveland Power and Performance is proud to present this rebuilt 2007 Dodge Charger SRT-8! This Charger is fully loaded with all of the features that you would expect from the SRT brand. This Charger has only 53K miles on it! This is your chance to save thousands on a clean SRT Charger!
We purchased this Charger with front end damage and an Ohio salvage title. We have since fully repaired the collision damage and had this vehicle inspected by the Ohio state highway patrol. This Charger now carries a fully insurable salvage rebuilt title that can be transferred to any US state.
We put lower frame rails, a front bumper bar and header panel on this Charger from a donor vehicle. We also used front fenders and a front bumper from a donor Charger and painted to match the car. The air bags deployed in this Charger. We have since installed airbags and seat belts from the donor vehicle. You can see the link above for the build and progress photos.
We have also done some preventative maintenance on this vehicle and replaced some common wear items. We have installed new intake gaskets, new brake pads, and new rotors. We changed the oil using Mobil 1, the tires have been spun and balanced and, the vehicle has been aligned.
The car runs, drives, starts, and stops like it should. There are no active lights on the cluster and we have put over 500 test miles on it since it has been repaired.
Here are the finished pictures, inside and out:
Salvage 2007 Dodge Charger SRT-8 6.1L Rebuild from start to finish!
We received this Salvage titled 2007 Dodge Charger SRT-8 with front end damage and only 52k actual miles. Upon further inspection, it appeared to be in very good condition, and we had most of the parts to fix it here. We will be replacing the damaged parts on this car and offering it for sale, completely finished. This Charger SRT-8 is going to be a great opportunity for someone to save thousands over buying used. This Charger features the 6.1L V8 engine, automatic transmission, leather interior, navigation, Brembo Brakes, and much more. We will be fully inspecting the vehicle, and taking it through State Inspection to get a rebuilt title for the next owner.
Here are some photos showing the Charger as we received it.
As you can see from the pictures, this Charger SRT-8 only suffered front end damage, and the interior is very clean. Here are some pictures of it on the frame machine, and getting painted, then the engine put back in: