Posts Tagged 'Challenger'
Home of the 6.1L & 6.4L HEMI Turnkey Pallet
Home of the 6.1L & 6.4L HEMI Turnkey Pallet
Cleveland Power and Performance is the home of the 6.1L & 6.4L HEMI Turnkey Pallet. Our 6.1L & 6.4L HEMI packages are sold setup on a pallet and ready to run once you receive it! Just and fluids, fuel, and fire it up! We offer these turnkey pallets as an alternative to crate packages or basic engine and transmission dropouts, providing ease of use as well as ultimately saving customers thousands of dollars.
When pulled from a donor vehicle, these late model 6.1L and 6.4L HEMI engine packages require communication with a number of VIN matched modules in order to run properly. Depending on the year, make, model and options on the vehicle that the driveline was removed from will determine the models needed to get your package running properly in your custom car or hot rod.
Here are some examples of what we include with our HEMI dropouts.

Of course, all of these parts are all wired up together, on the pallet, when we sell our ready to run dropouts.
A large number of essential communication components in late model LX based cars are VIN matched and can only be properly programmed or diagnosed using the appropriate hardware/software. Unlike most, if not all, high performance other salvage yards, we have the ability to program, scan, and troubleshoot late model Dodge/Chrysler computers. This gives us the opportunity to ensure that every turnkey package that we sell is properly programmed and can be used in a custom application. For far to long, and even to this day in some circles, there was a major misconception regarding the ability to use these packages outside of the vehicles that the came in. There was special emphasis on the inability to use the NAG1 transmission that Chrysler used behind their HEMI's for years.  With outside of the box (almost literally in this sense) thinking, we here at Cleveland Power and Performance have essentially dispelled those rumors. By offering several dozen 6.1L and 6.4L auto and manual turnkey dropouts over the last several years, and by seeing them used in many unique applications, we have shown that these packages can indeed be used in just about whatever you can dream up!
We move fast when we drop a HEMI! We pull everything neatly and carefully, but we move fast!
With all of this being said, we urge buyers to make sure they get exactly what they need when purchasing a HEMI to used in their old Mopar or custom car.  All to often we get calls from customers shopping else where, either buying used or crate motors, looking for parts to get their HEMI running or advice on what to do. We are always willing to provide advice, however due to the fact that we sell our engines as turnkey packages we very rarely have the parts available that the need to run their motor. We have always and will continue to go the extra mile to make sure that every single dropout that we sell is exactly what the customer needs.
One of our 6.1L Turnkey setups was featured on the hit TV show Chop Cut Rebuild and was ultimately dropped in a 1970 Barracuda!


Check out this page showing the 6.1L Barracuda, dubbed "The Anchor", getting a full wrap right on the SEMA floor!
The same vehicle was also featured Hot Rod Network's website here.

We have sold a number of these turnkey pallets overs the years, and we have seen them find great homes. We have seen them put into some very unique and downright awesome project cars. Some of our turnkey HEMI's are now in their new homes under the hoods of Dusters, Imperials, V6 LX Cars, Barracudas, Pickup trucks, Coronets, and much more. Much like children, we provide a loving and caring environment for these packages until they are ready for their new home.  Sometimes we are sad to see them go, but their stop here is only temporary as they are ultimately destined for greater things… like running a quarter mile on a balmy Saturday morning on an Arizona drag strip, or doing a smokey burnout on a lonely road overlooking a pacific sunset in northern California, or even taking the kids out on the last nice autumn day for a Sunday drive in foothills of the Pocono's. Lets take a look at at some of the HEMI turnkeys past….
We would be happy to be the supplier of the HEMI package in you Mopar build! If you are looking for a specific package, please let us know as we will do what we can to find one for you.
If you have any questions regarding one our our turnkey setups, or any other packages that we have, please call us at 866-236-5031 to discuss.
Ultra Rare Limited Production Factory Vehicles That Have Been Given a Second Life!
Here at Cleveland Power & Performance, we have had quite a few ultra rare, limited production factory high performance vehicles. Most have been wrecked beyond repair, but we have repaired quite a few and put them back on the road! The one's that had a dead title or were beyond repair we still given a second chance by our facility!
Whether sold as a donor car, a rolling chassis, a turnkey pallet, or just a complete engine and transmission drop out, here at Cleveland Power & Performance we promise to ALWAYS ensure these limited number vehicles are re-purposed for their second coming in a custom project or repair! As of 2016, these are the vehicles we've received that we feel are quite rare based on total production. Stay tuned next year for a new list of rare cars we've acquired!

Below you will find a list, detailing the vehicle and what makes it rare, our stock number, the vin, and what the total production was. Entries with an "X" in front of the year are pictured below!
X 2005 Ram 1500 SRT-10 Viper Yellow Fever Quad Cab – 14-052 –
3D3HA18H35G740233 – 1 of 500 total
X 2005 Ram 1500 SRT-10 Viper Commemorative Edition – 13-064 –
3D7HA16H95G858885 – 1 of 200 total

X 2005 Ram 1500 SRT-10 Viper Commemorative Edition – 13-212 –
3D7HA16H75G858934 – 1 of 200 total
2006 Ram 1500 SRT-10 Viper Night Runner – 12-053 –
3D3HA16H76G269305 – 1 of 400 total
X 2006 Ram 1500 SRT-10 Viper Night Runner – 09-328 –
3D3HA18H56G269140 – 1 of 400 total
X 2010 Furious Fuchsia Challenger SRT-8 – 13-023 –
2B3CJ7DW0AH296248 – 1 of 400 total
2001 Yellow Viper GTS ACR – 10-026 –
1B3ER69E41V703202 – 1 of 89 total
X 2008 B5 Blue Pearl Coat Charger SRT-8 Super Bee – 14-043 –
2B3LA73W38H164001 – #614 of 1000
2008 B5 Blue Pearl Coat Charger SRT-8 Super Bee – 15-134 –
2B3KA73W98H163768 – 1 of 1000
X 2008 B5 Blue Pearl Coat Charger SRT-8 Super Bee – 14-057 –
2B3KA73W08H164100– 1 of 1000
2004 Viper Mamba Convertible – 10-290 –
1B3JZ65Z54V102179 – 1 of 200
2004 Viper Mamba Convertible – 10-131 –
1B3JZ65Z84V101267 – 1 of 200
X 2005 Viper Mamba Convertible – 15-002 –
1B3JZ65Z45V501196 – 1 of 200
X 2003 Viper from Fast & The Furious: Toyko Drift – 07-146 –
1B3JR65ZX3V501572 – 1 of 1
X 2013 Corvette C6 Z06 427 Convertible w/ 427 package – 13-002 –
1G1YY3DE9D5700216 – 1 of 427
1992 Corvette ZR1 in Black Rose Metallic – 14-126 –
1G1YZ23J4N5800165 – 1 of 48
2011 Toxic Orange Challenger SRT-8 – 15-198 –
2B3CJ7DJ7BH552987- 1 of 357
X 2010 Arctic White Corvette C6 Z06 – 15-006 –
1G1YK2DEXA5107164 – 1 of 184
X 2002 Corvette Mallet Hammer C5 Z06 383 Stroker – 15-076 –
1G1YY12S525128748- 1 of 6!
X 2011 Challenger SRT-8 392 w/ 392 Package – 13-037 –
2B3CJ7DJXBH501449 – 1 of 1492
1997 Corvette C5 "Bowling Green" Fairway Green Metallic – 06-189 –
1G1YY22G2V5100184 – 1 of 155
X 2008 Corvette C6 Hertz Sales Package – 08-299 –
1G1YY26W285130534 – 1 of 500
2001 Pontiac Firebird Firehawk – 13-234 –
2G2FV22G312144471 – 1 of 504
2002 Pontiac Firebird Trans AM Collector's Edition – 05-190 –
2G2FV32G322145109 – 1 of 554
1996 Corvette C4 LT4 Convertible Collector's Edition – 08-022 –
1G1YY3259T5116951 – 1 of 1,290
1996 Corvette C4 LT4 Coupe Collector's Edition – 08-110 –
1G1YY2252T5110788 1 of 1,540
2006 Viper Coupe GTS Blue Special Edition – 09-050 –
1B3JZ69Z56V100316 – 1 of 424
2008 Dodge Magnum SRT-8 – 11-219 –
2D8GV77398H193430 – 1 of 239
2006 Chrysler 300C Classic Design Concepts #1 Glassback Roof Car – 15-182 –
2C3LA73W46H514722 – 1 of 1
X 2002 Camaro Coupe 35th Anniversary – 09-080 –
2G1FP32G322141284 – 1 of 934
2002 Camaro Coupe 35th Anniversary – 08-214 –
2G1FP22G122120475 – 1 of 1,037
2002 Camaro Convertible 35th Anniversary – 04-225 –
2G1FP32G122122538 – 1 of 789
1994 Firebird Trans AM 25th Anniversary – 08-008 –
2G2FV22P4R2233672 – 1 of 1,412
1994 Firebird Trans AM 25th Anniversary – 08-203 –
2G2FS22S0R2247162 – 1 of 1,412
1994 Firebird Trans AM 25th Anniversary – 10-292 –
2G2FV22P7R2240020 – 1 of 1,412
X 2004 Corvette Z06 Z16 Commemorative – 05-368 –
1G1YY12S945125001 – 1 of 2,025
2005 Silverado 1500 Regency RST Conversion – 06-244 –
1GCEC14V75Z336238 – 1 of < 200
X 2009 Pontiac G8 GT GXP – 09-229 –
6G2EP57WX9L303167 – 1 of 1,828
2009 Pontiac G8 GT GXP – 13-155 –
6G2EP57W29L300053 – 1 of 1,828
2009 Pontiac G8 GT GXP – 14-168 –
6G2EP57W99L310255 – 1 of 1,828
2005 Ford GT –
1FAFP90S25Y400149 – 1 of 2,027
1999 Viper GTS-R Built by Hennessey – 09-107 –
1B3ER69E8XV502685 – 1 of ???
2010 Challenger SRT-8 6 Speed Donor
Looking for the perfect donor vehicle for your one off custom project? Something to really set your vehicle apart? Look no further than the worlds first and only run and drive 2010 Challenger SRT-8 6 speed donor out there. Whether you are looking to restore your late model Challenger or Charger this donor offers everything you could possibly want.
The highly sought after 425 horsepower 6.1L Hemi engine and attached to it the 6 speed manual Tremec TR6060 transmission.
You will also get the comfortable ride of Bilstein suspension and the stopping power of Brembo brakes all the way around.
Update your interior as well with leather and suede seats, digital gauges, and navigation.
This being a run and drive donor vehicle you will receive all VIN matched wiring and components for installation in your custom application to get everything to communicate which is key when dealing with Chrysler vehicles. Why settle for just an engine package or just interior when doing a one off custom build? With this donor you will get everything you need and more to make your build one of a kind.
Check out all the photos and video of this driving here. Please feel free to give us a call at 866-236-5031 with any questions on it.
2010 Dodge Challenger SRT-8 rebuild
Cleveland Power and Performance is back at it again, rebuilding domestic high performance cars to save you thousands! Stay tuned to our blog feed to see many exciting rebuilds in the future, but for now we will be highlighting our latest project a beautiful 2010 Dodge Challenger SRT-8 rebuild!
This SRT-8 Challenger was involved in a front end collision, which resulted in it being branded with a salvage title. Below you will see the complete rebuild from the time the vehicle got here, to its completion. This Challenger now carries a fully transferable salvage rebuilt title and is for sale ready to head to a good home.
Here are some photos of the challenger as we received it at our facility.
As you can see from the pictures, this vehicle took a front end shot but was hit high which did not deploy the airbags or result in and damage to the engine or driveline. We get many late model SRT vehicles in here and part a good amount of them out, however we thought this vehicle deserved to be fixed properly and put back on the road. The SRT brand has a cult like following and many Mopar fans love the raw power of the 6.1L engine and the iconic looks of this Challenger. As always, we at Power and Performance aim to set ourselves above the rest when repairing wrecked vehicles. We do not cut corners or spare expensive when doing a rebuild.
After racking the vehicle on the lift and looking at the frame rails and the suspension, we determined that the best way to fix this vehicle was to replace the lower frame rails and use a complete front suspension from an unit donor. Here are the pieces we used to fix this Challenger before we put the car on the frame machine.
We then put the Challenger on the frame machine to cut and remove the damaged rails to begin the nitty gritty of the rebuild process, the measuring and welding.
Here is what the Challengers frame looked like underneath the damaged body panels.
We the removed the damaged frame and apron area at the proper locations to allow the installation of the undamaged frame components.
After the left hand frame rail and bumper bar were welded in, the aprons and header panel were put in place.
Once all of the frame and apron components were properly installed it was time to paint them with factory Chrysler paint.
Now that the car was structurally sound and painted to match, she was taken off the frame machine to have the driveline, suspension and cooling components re installed.
With the driveline installed, and the suspension bolted up and in place the car was ready to have the outside sheet metal hung on. We used parts off on un-hit front end to finish this car. They were installed on the Challenger and the sent to paint.
Here are some finished photos of the Challenger.
This challenger is now fully rebuilt and has been inspected by the Ohio State Highway State Patrol and has been given a rebuilt salvage title. Since completing the build we have put over 500 Challenger and she is ready for a new home. If you are interested in purchasing this vehicle for thousands less than comparable models, please call us at 866-236-5031 and for more details click the link HERE

Brembo or BremNO????
What are Brembo calipers? What do they do? Will it make my car stop faster? Those are common questions that come to mind when customers ask me about Brembo calipers.
Common cars that carry the Brembo brake upgrade are SRT-8 300's, Challengers, Chargers, and Magnums. These are the most powerful V8 vehicles that the Chrysler Group has came out with. These cars are so powerful that they require a brake system of commensurate capability as standard equipment. Design imperatives were excellent braking performance under every conceivable operating condition – from high speeds to track day, communicative pedal feel enabling precise modulation and control, and superior heat dissipation to keep brake efficiency optimized and sustainable, especially under extreme usage.
The basic models would be SE or SXT, which have a 3.6L V6 engine with 250-305 horsepower have the 4 wheel Anti Lock Disc Brakes. The RT models have 5.7L V8 Hemi engine with 375 horsepower and have the Heavy Duty High Performance Brakes.The SRT-8 models have 6.1L or 6.4L engine with horsepower ranging from 425-470. These come with the Brembo Performance Brakes.
A lot of people who own the SXT or the RT models will generally upgrade their brake system to the Brembo Performance simply because they custom built there engine to have more horsepower and they need the support. Most of the time they will upgrade because they simply look a lot better. If you are looking into upgrading your SXT base model or RT model, you cannot just plug and play with Brembo Performance Brakes.
To upgrade your brakes on the base SXT model and RT,you will need at least a 20″ wheel for clearance, hubs, spindles, knuckles, and rotors.
The rotors are different from RT and SRT-8, RT rotors measure out to approximately 13.6 diameter and 1.15 thick. The SRT rotors measure out to approximately 14.20 and 1.26 thick.
Here are some photos of how much different each caliper is:
Brembo:

Regular:

SRT-8 SPINDLE & HUB: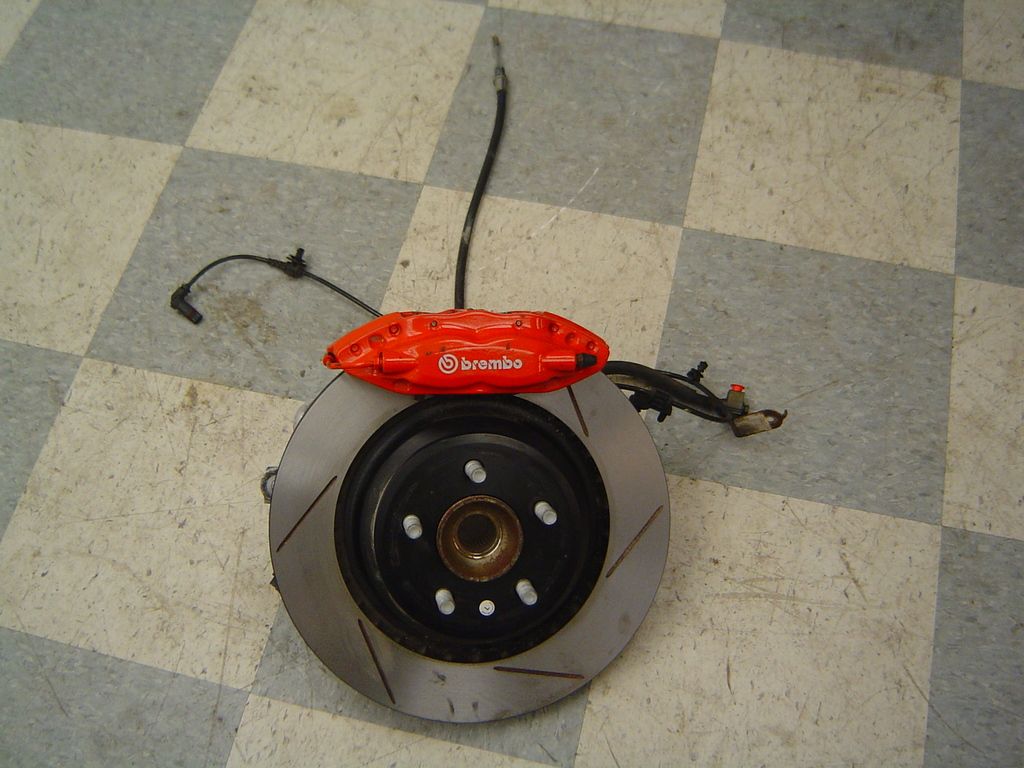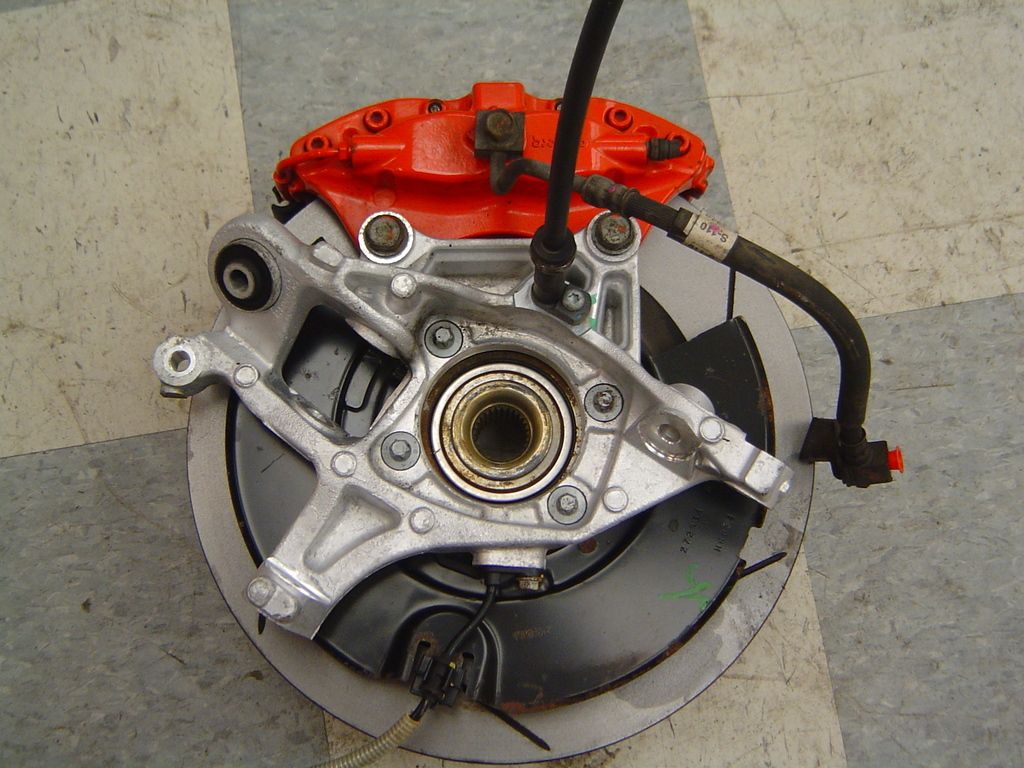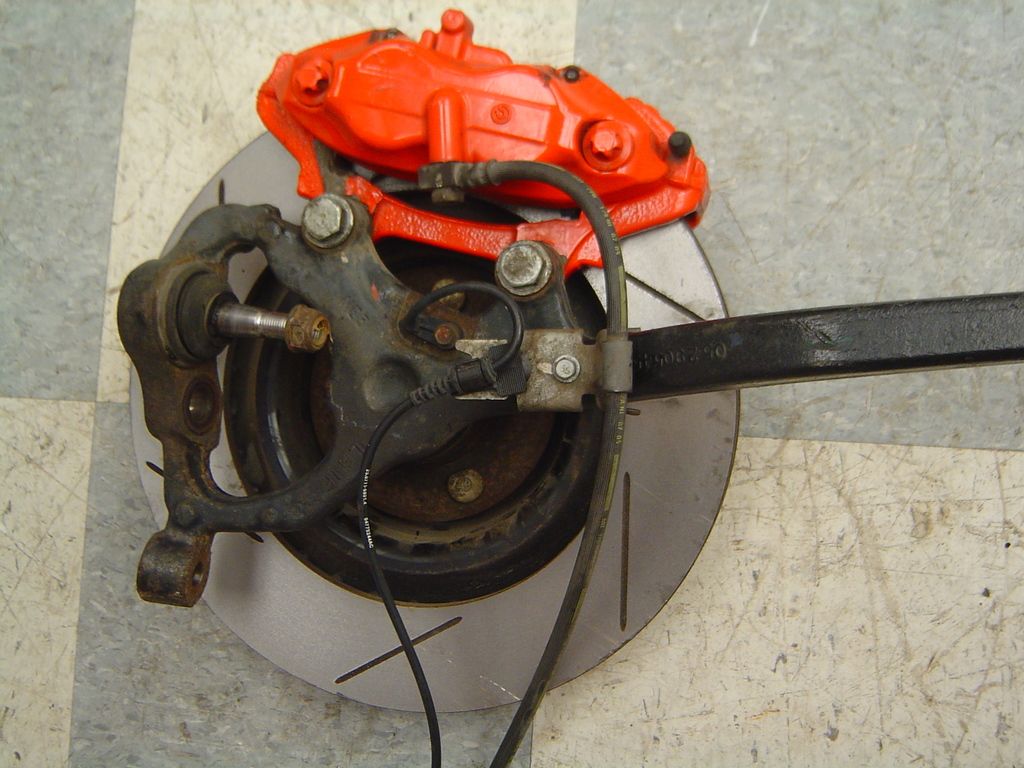 New and Improved 5TH Gen Camaro SS and Challenger SRT-8 WALL ARTS!
Cleveland Power and Performance is proud to re-release our one of a kind 5th Gen Camaro and Dodge Challenger SRT-8 fully lit bumper wall arts!
We have gotten tons of requests for advanced features on these bumpers, and a little r and d completely we now have a new supplier that has added many requested features!

Want to make your garage (or any other flat surface) REALLY stand out? With our new and improved rear bumper wall art, you will receive:
Rear Bumper Assembly – Trimmed and Cut to sit flush against your wall!

OEM Lights w/ Quarter Panel Cuts


OEM Spoiler w/ Trunk Lid Cut

OEM Rear Bumper Diffuser

OEM Exhaust Tips


Custom Plug in Wiring Harness with AC/DC Converter

Custom Wireless Power Control and Dimmable Key Fob


High brightness, Low Draw LED Lights In All Locations

Custom Made Aluminum Bracket to Mount On Wall


Rubber Trim to Protect Surface Mounted Against
HERE ARE SOME PHOTOS OF THE DODGE CHALLENGER SRT-8 REAR BUMPER WALL ART THAT HAVE IN STOCK!
THIS DODGE CHALLENGER WALL ART WOULD BE THE PERFECT ADDITION TO ANY MOPAR ENTHUSIAST MAN CAVE OR GARAGE. OUR WALL ARTS HAVE MADE GREAT BIRTHDAY AND HOLIDAY GIFTS. WE HAVE FITTED THIS WALL ART WITH A LIGHT WEIGHT YET STURDY EASY TO USE MOUNTING SYSTEM. THIS NEW AND IMPROVED SYSTEM ALLOWS FOR EASY AND SIMPLE INSTALLATION AND REMOVAL.
HERE ARE SOME PHOTOS OF THE CAMARO SS REAR BUMPER WALL ART THAT WE HAVE AVAILABLE FOR SALE.

As you can see from our pictures, both of our wall arts have improved mounting systems that can be drilled to fit your specific application. Each of these kits weights just around 70lbs and could be hung just about anywhere you'd like. If you are interested in either of these bumper wall arts or would like to suggest a different vehicle, please feel free to call us at 866-236-5031.
Salvage Dodge Challenger SRT-8 6.1L Rebuild
Follow this blog to see this Salvage Dodge Challenger SRT-8 6.1L Rebuild from start to finish!
We received this Salvage titled 2009 Dodge Challenger SRT-8 with light rear end damage and light interior fire damage. We will be replacing the damaged interior parts on this car and offering it for sale. This Challenger would be the perfect candidate for a custom build or to repair your wrecked challenger. This Challenger features the 6.1l engine, automatic transmission, leather interior, navigation, Brembo Brakes, and much more. We have seen our Challenger donor vehicles used in many very unique custom builds, from Classic Plymouth wagons to the iconic Challengers of the seventies. Our donors have also provided all of the interior, driveline, and electronics on heavy fire and flood damaged Challengers.
Here are some photos showing the Challenger as we received it.
As you can see from the pictures, this challenger suffered no front end damage, and most of the interior was untouched by the rear contained fire. The vehicle did get hit in the rear, which pushed the trunk pan in a bit. We started this rebuild by removing all of the interior, which will allow us to thoroughly clean the trunk and floor pans, as well as inspect the interior for other damage.
We will continue the build by thoroughly cleaning the floor and trunk pans to eliminate and odors caused by the burn. We will also replace several other parts on the challenger that need to be replaced, then test drive the Challenger and ultimately offer it for sale. Stay tuned to our blog to see the finished product. If you are interested in this Dodge Challenger, please give us a call at 866-236-5031 to discuss.