DODGE RAM 1500 SRT-10
SOLD

– 2004 DODGE RAM 1500 SRT-10 –

SOLD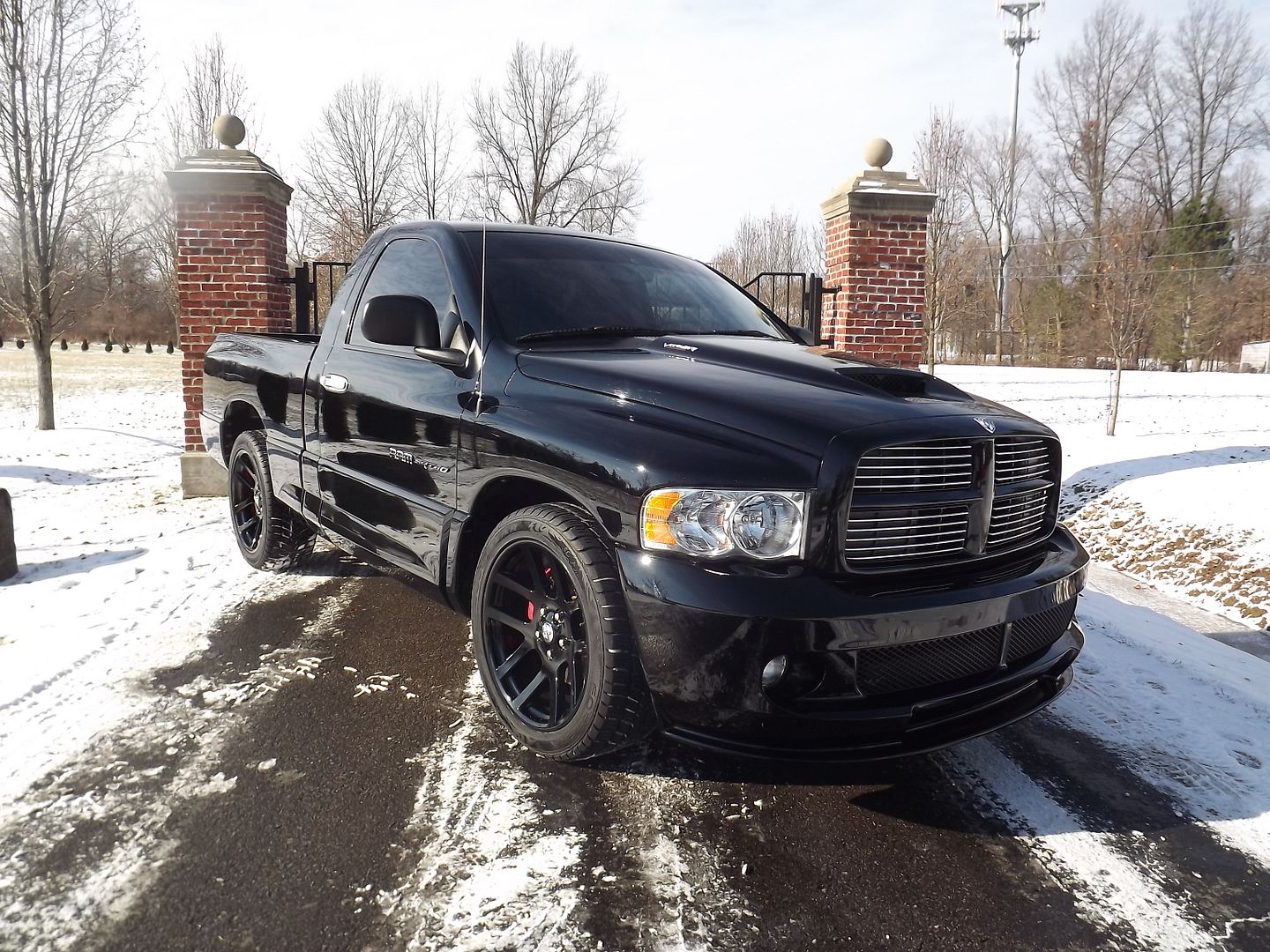 Up for auction today is an extremely clean 2004 Dodge Ram SRT-10 standard cab. This truck has been drivien 4,000 miles over the last year and half by the owner of the company. This Ram is very well-equipped. This truck features 22-inch black painted OEM wheels, leather front seats, OEM navigation, and much more!
Under the hood this Ram boasts the 8.3-liter V10 engine. This engine produces 500 horsepower and 525 ft-lbs of torque! Behind the 8.3L V10 engine is the Tremec T-56 6 speed manual transmission. Other features of this SRT-10 truck include heavy duty brakes with 15" rotors in the front and 14" rotors in the rear. The rear axle is a Dana 60.
When we purchased this truck, we replaced the engine with a fresh re-built dropout that was done in our shop. Click the link below to see pictures of the engine build. The transmission, clutch, flywheel, and rear axle were also installed from a different SRT-10 truck with only 30K miles at the time we installed the re-built engine. This truck features a full cat back MBRP exhaust. This truck also features an aftermarket Volant air cleaner.This Ram is a beautiful "Brilliant Black Crystal Clearcoat" in color. The paint is in good shape, with some paint scratches and marks as expected. There are Goodyear Fortera SL's tires size 305/40/22 on all four OEM black painted wheels. All four tires have a fair amount of tread left on them.
The Vin to this Ram SRT-10 is 3D7HA16H94G267230
We purchased this Ram truck in early 2012 with an inoperable/blown engine. The truck was sold at auction with a salvage title. Since the receiving the truck, the engine has been professionally rebuilt in-house in our engine shop. We have had it inspected by the state of Ohio. This vehicle now carries an Ohio Salvage Rebuilt title.
Since being repaired this vehicle has been driven nearly 4,000 miles!This Ram has been a very well maintained. Oil changes and brake jobs have been done regularly and on schedule. The Ram can be titled and insured in any of the 50 states. This Ram carries an OHIO SALVAGE REBUILT TITLE, so check with your local laws and regulations regarding registration of this car. We can arrange shipping worldwide at cost to the buyer, contact us today for a quote!