Camaro SS Coupe 2010 Auto Trans 30k Miles
SOLD – 2010 Camaro SS Coupe Auto Trans 30K Miles – SOLD

Cleveland Power and Performance is proud to present this rebuilt 2010 Chevrolet Camaro SS! This Camaro is fully loaded with all of the features that you would expect from the SS line. This Camaro has only 30K miles on it! This is your chance to save thousands on a clean SS Camaro!
We purchased this as a theft recovery. The engine, transmission, passenger side fender, passenger side door, head lights, seats, and decklid were missing when we purchased the vehicle. This Camaro was NOT involved in a collision, but was given a salvage title due to the extent of the theft.
We also purchased a donor Camaro SS with matching options to replace the missing parts. The VIN from the 2010 Camaro that we purchased as a donor is 2G1FK1EJ6A9153994 and it had 28k miles on it. All replacement body panels were professionally painted to color match.
This Camaro now carries a fully insurable rebuilt salvage title that can be transferred to any US state. The title shows non actual mileage.
The car runs, drives, starts, and stops like it should. There are no active warning lights on the cluster and we have put over 500 test miles on it since it has been repaired. The vehicle has also been professionally aligned.
HERE IS THE VIN FROM THIS CAMARO 2G1FK1EJ7A9152059
CLICK THIS LINK TO SEE PHOTOS OF THIS CAMARO FROM THE TIME WE RECEIVED IT, TILL NOW.
Here is the alignment sheet for this Camaro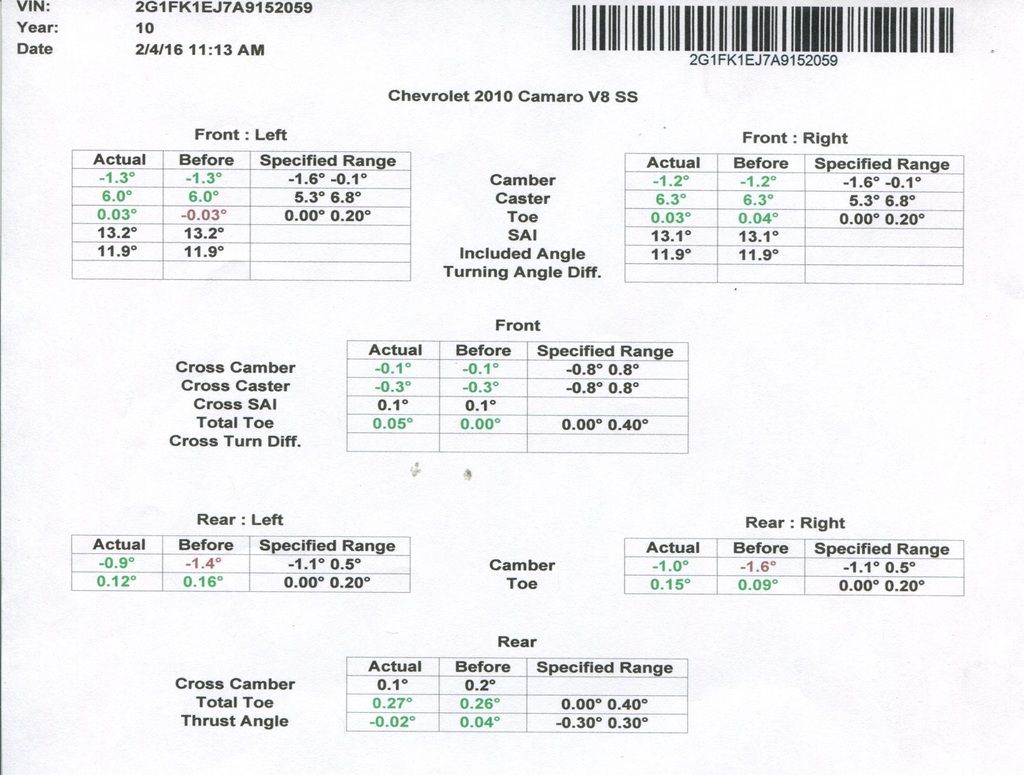 This 2010 Camaro SS features the awesome 6.2L L99 engine which produces 400HP and 410ft-lbs of torque! Mated to the 6.2L, putting the power to the wheels, is the stout 6L80 6-speed automatic transmission.
This Camaro 2SS/RS Camaro is optioned out with all of the performance and luxury components that you expect from the SS line. All four corners of the car feature Brembo brakes. The interior of the car features driver's power and passenger manual black leather seats. Both front seats are heated. This Camaro also features a center console gauge pod, sun roof, hands free calling, Boston premium audio, and much more.
This Camaro features a Volant air cleaner, a cat-back Flowmaster exhaust system, and H&R "Super Sport" Lowering springs. The Flowmaster gives this Camaro a nice tone, and the springs give it a very nice stance, dropping it roughly 1.8″ in the front and 1.7″ in the rear.
This Camaro is sitting on all four factory SS 5 spoke 20″ rims. The front wheels are wrapped in Hankook Ventus V12 tires size 245/45/20 and the rears are wrapped in Hankook Ventus ST's size 275/40/20.
This Camaro is painted "Silver Ice Metallic" in color. The paint shows some marks throughout but is in overall good condition. Please look at all of the pictures to see the condition.
CHECK THE EXPORT LAWS TO SEE IF YOU CAN GET THIS VEHICLE INTO YOUR COUNTRY WE HAVE A CUSTOM ENCLOSED DELIVERY TRAILER TO BRING THIS VEHICLE TO YOUR LOCATION! CONTACT US FOR A QUOTE!! THIS VEHICLE IS SOLD AS IS. NO CREDIT CARDS ALLOWED ON VEHICLE PURCHASES